We live in a society that has been consciously addressing the problems of modern consumerism for several years now. The excessive production of waste is a serious threat to the planet on which we live. What place in all this does thin bag made of foil?
Plastic wrapping has more than one name
Did you know that there are different types of foil packaging? These include packaging HDPELDPE, MDPE and PP. As a homogeneous raw material, the products made from them are reusable and recyclable. The variety results from different parameters, sizes and intended use. What do these mysterious abbreviations mean? Below is a brief description of one of the most popular packaging materials.
What is HDPE?
Bag This type is a high-density thermoplastic made from ethylene. This thermoplastic is the ideal material for plastic bagIt is flexible, transparent and has a high chemical resistance. The resulting rustling, resistant to external factors, plastic wrap allows you to pack and carry any small or medium-sized product. A very important feature of these plastic bags is their durability. Depending on the model, they can be used to transport products weighing up to 15 kilograms.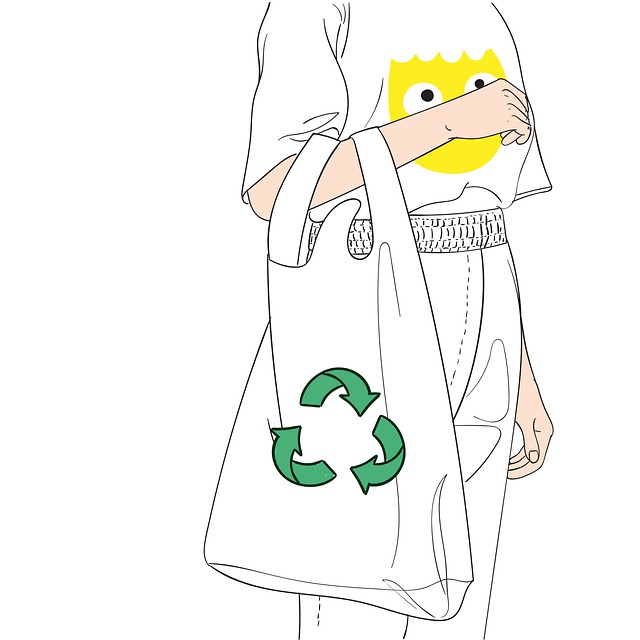 Advantages of plastic bags:
durability (strong),
weight (light),
high resistance to moisture,
ergonomics (they take up little space),
reusable,
large availability of variants and sizes,
free choice of colour.
Purpose of the plastic bag
Precisely because of its properties commercial This type is used in shops. Trackby HDPE film They are ideal for carrying food and industrial products. In large-format shops, it is standard practice for customers to pack sweets by weight, fruit and vegetables in plastic. The catering industry has also taken a liking to this cheap and robust solution, which maintains the required hygiene measures for the transport and transfer of foodstuffs. This type of protection ensures that food does not come into contact with external contaminants and bacteria. In order for the bag to be used in the food industry, it must have special certificates confirming its safe use in contact with food.
Unique design
A very interesting aspect of modern advertising bags is that they can be freely printed. In the beginning standard advertising bags did not have any additional overprints, they differed in other parameters only: thickness or colour. Nowadays marketing sees advertising opportunities everywhere - also on foil mesh. Of course, the product may bear the name or the simplest logo of the company for which the advertisement is to be made, or simply a symbol emphasising the action or event in which the foil packaging will be used. However, it happens more and more often that a real work of art is created on a commercial. Thanks to advanced technology companies are able to produce almost any pattern on the mesh. Nowadays the use of graphics on carrier bags is nothing new. Sometimes the only reason to choose a particular service provider is the website, product information and possible promotions. When deciding on a particular company, we often rely on the opinion of other consumers. It is really good if thanks to these opinions we choose domestic manufacturer.
Polish producer of films and packaging TWPlast offers flexographic printing with up to 6 colours used, which can be done on any type of film. All you have to do is choose or create your own design, place the selected goods in the shopping basket and if what you want is already in stock, all you have to do is wait for it to arrive.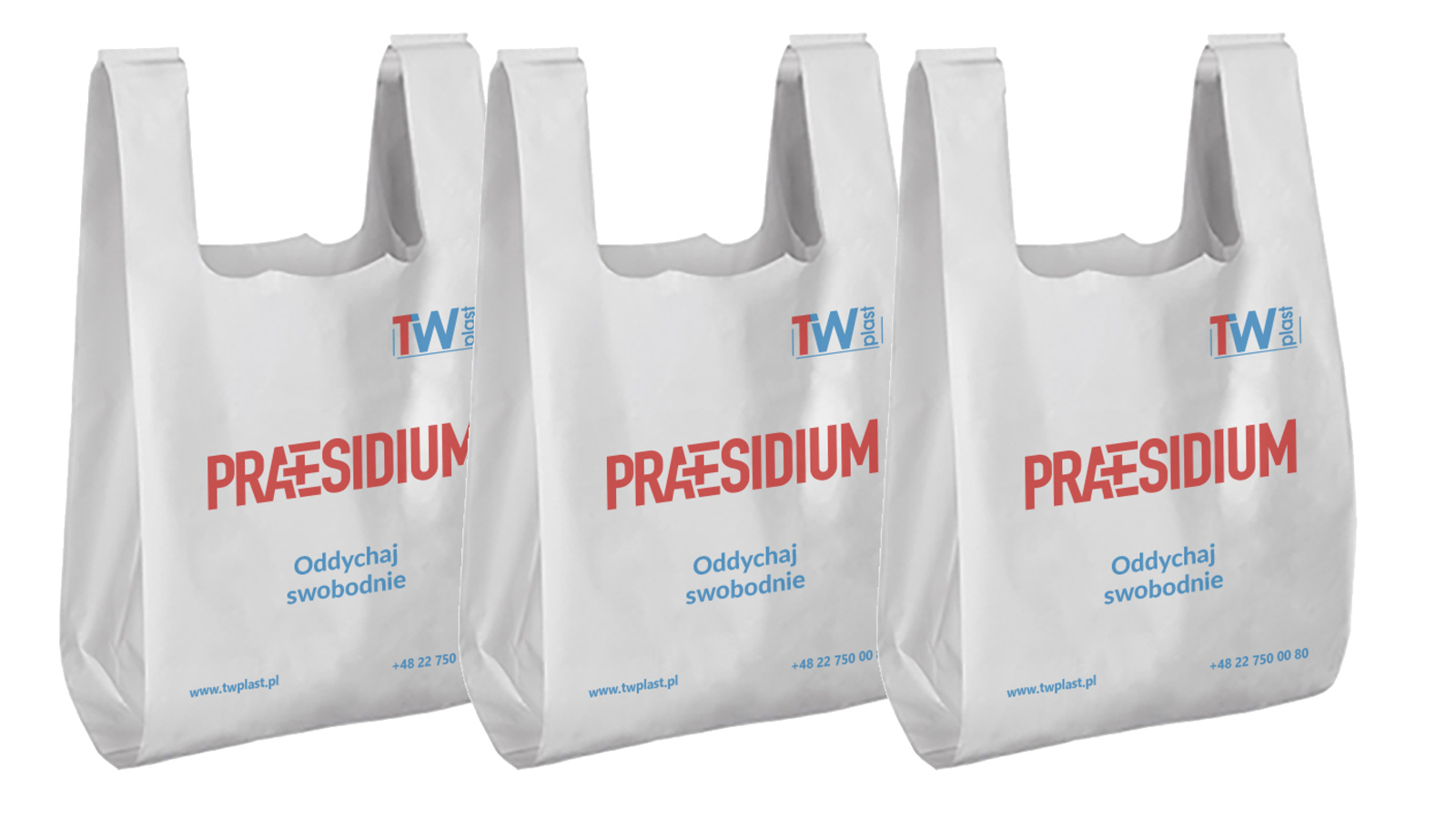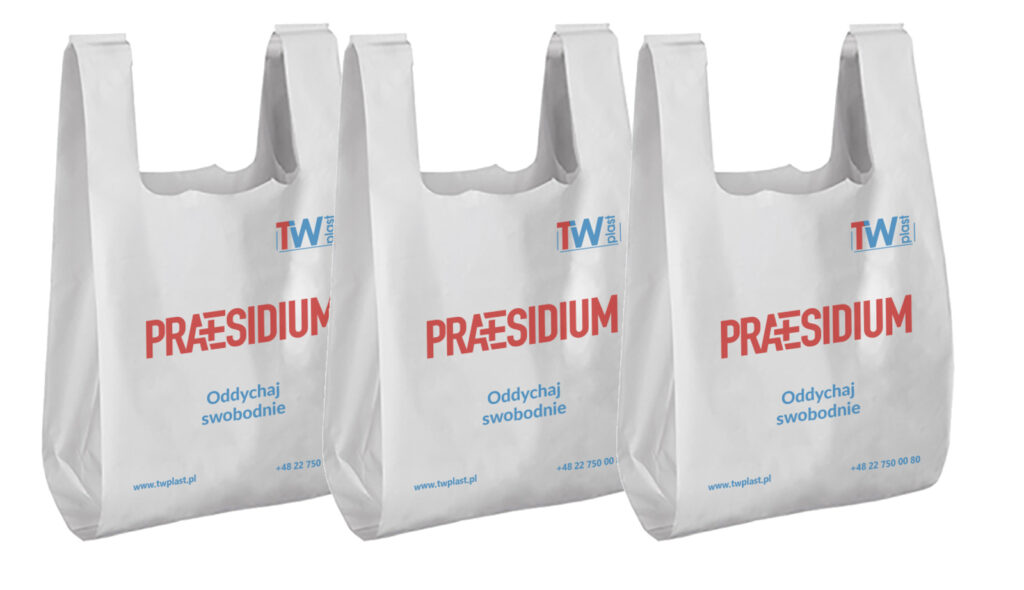 What is mysterious flexographic printing?
As the name suggests, flexo printing is based on flexible printing. It is convex printing created when printing forms covered with liquid fast-drying inks come into contact with the foil.
Foil world
Until a few years ago, it would have been difficult to imagine shopping without plastic bags. They had a very good reputation and were easy to access. This product was almost everywhere. Shops made sure that purchases taken straight from the shopping basket went straight into the plastic bags. Nowadays it is still common practice to use small plastic bags for fresh fruit and vegetables and sweets, while at the checkout almost every shop offers more varied bags that the customer can choose according to his or her preferences. The customer usually has to pay for such packaging, but decides for himself which bag he will choose in terms of environmental suitability. This is where, among other things, there has been room for the introduction of plastic recycled advertising bags.
Manufacturers such as the Polish TW PlastWe use used film nets to produce new ones. Size, dimensions, colour are all influenced by the application, and the final product really depends on the customer's expectations. It is possible to produce a plastic bag with a print not only on one side, but also with a pattern on both sides. TW Plast emphasises the value of EKO commercials, from a special offer in which a degrading additive is used.
The phenomenon of foil products
The popularity of plastic pouches and bags is probably due to their low manufacturing costs and their versatility. Plastic products are easy to manufacture, all you need is the right machine. Are plastic products for packaging and carrying goods a necessity in our lives? Opinions are divided.
Home methods for simple storage of reusable plastic bags
Or is it the case that, when caring for the environment, you want to make the most efficient use of all the products you have so that you can be sure you've done everything you can to look after the environment? That's the idea, but in practice, is your house full of plastic bags that are hard to contain? Do they make an unnecessary mess, make you more anxious and throw them in the bin more often, even though they could be recycled? If so, I have a tip for you. What can you do to make a plastic bag take up less space at home? You can fold it into a small, accessible form that will allow you to tame it and store it in a more pleasant way. I will now give you step-by-step instructions on how to do this.
Step one
Place the plastic bag on a straight surface (table/floor). Smooth it out so that it is not crumpled, then fold it in half vertically so that the longest edges can join together. It is important that it is bent in the middle and that the longer edges, which are at the same time ended with ears that are used to carry the net, are covered with each other.
Step two
Now fold the grid vertically in half once more, so that the shorter part can overlap with the longer part. In this way we have obtained a grid folded in the shape of a long rectangle.
Step three
Grab the corner from the right-hand side of the bottom of our rectangle and apply it to the side edge. The base of the rectangle should be placed on the long side of the rectangle along its entire length. In this way a "small triangle" is formed, which in turn should be moved upwards in such a way that a straight base is formed again. Now, step by step, fold our "triangles" upwards.
Step four
In this way, the large plastic bag is transformed into a neat little triangle which takes up much less space than the unfolded, unruly plastic bag. To prevent the newly formed plastic triangle from unfolding, you can try folding it inwards a little so that the end locks into place.
Five steps were all it took to take a more ergonomic approach to organising space so that we didn't have to dispose of plastic netting while it was still usable. Thanks to the principle of the less, the better, you can get rid of unnecessary products lying around the house.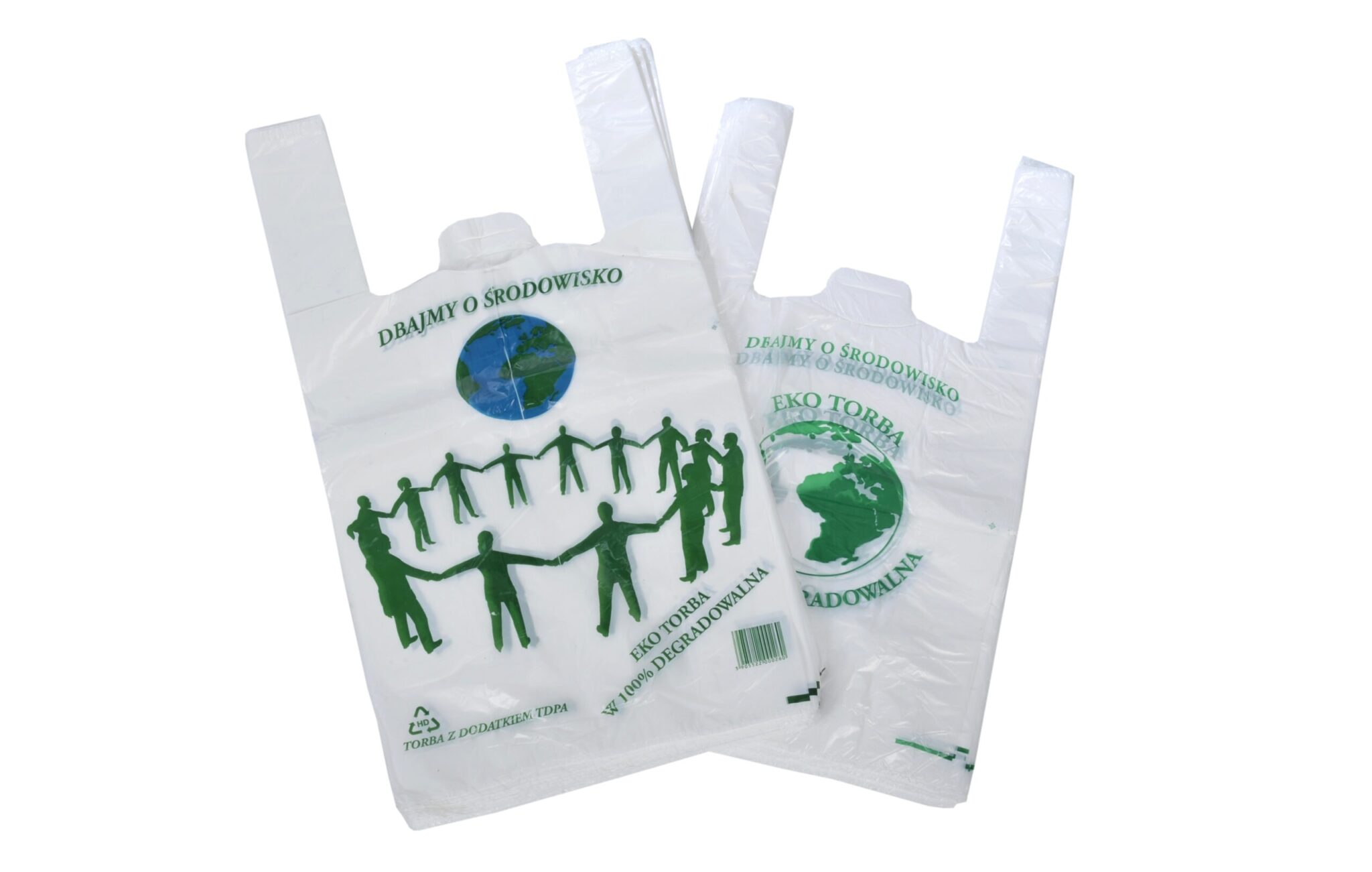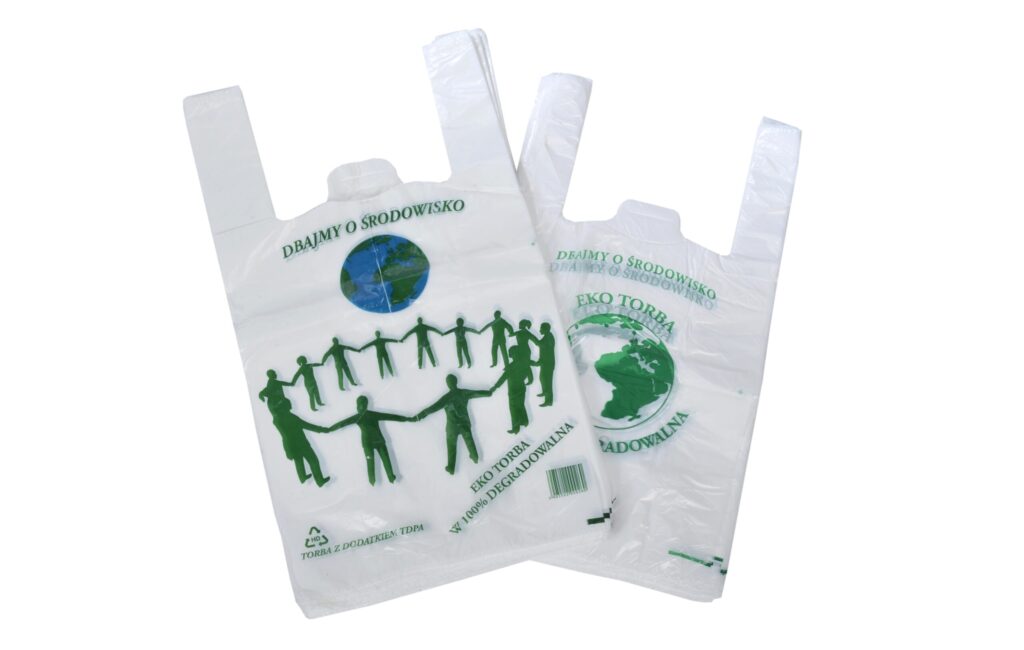 The second life of a plastic bag
One of the features foil meshThe main reason for this is that it can be reused. We live in a very convenient world and we do not always use a plastic bag a second time. Sometimes we think that using the same plastic bag a second time foils At other times it may seem too "wrung out" for our purposes, or we may just reflexively reach for another one. Regardless of whether we reuse it or decide to throw it away after one use, it should ultimately end up in the correct bin. This is the yellow bin for plastics and metals.
Recycling
Let us assume that the plastic bags have already been collected. What's next? Time to recycle! A word that is very well known and used almost everywhere. Corporate social responsibility is very high nowadays, but do we understand exactly what this cycle is?
Recycling means a process to reduce the use of natural resources. It consists of recovery, where substances, materials or products are reprocessed and used for the original or another purpose.
It is interesting to note that HDPE foil is not recycled in the same way as HDPE bottles because of the way the product is processed. The machine used to process the bottles cannot be used for the film because it could get caught in its gears. The whole process is very interesting. First, HDPE film recycling machines shred the plastic into small pieces. The cut plastic is then formed into granules. The granules produced can be made into many other goods. Interestingly, it is combined with a percentage of virgin HDPE to increase strength and reliability. To achieve the desired effect, the granules are blown using various machines and methods.
Re-processed and what next?
Recycled HDPE film can be used to make plastic lumber, recycling bins, rope and pipes. Once again, this is how plastic advertising film is made.
Being EKO is fashionable
Contemporary trends, taking into account corporate social responsibility, are moving in a very positive direction. The initial trend of "being eco" has turned into a conscious approach to the problem of environmental pollution. Nowadays, no one is surprised to see a person using a cloth shopping net or a customer choosing a paper bag to pack the purchased products.
Can a plastic bag have a second life?
It can and should! We must take a conscious approach to the problems of the modern world and ensure that we reduce the amount of plastic waste. So as consumers, let's make a conscious choice and buy recycled, recyclable carrier bags.
Welcome to the twplast.pl website, where you can find information about the recycled products manufactured by the company. On this website we provide you with contact formYou can use this page to send us enquiries regarding our business activities, product availability and other queries. We also welcome your feedback on products already purchased from us.