Today, we can hardly imagine life without bubble wrap. We use it widely in transport, gardening, catering, art and just for fun. However, not everyone knows that it is a relatively new invention - the first bubble wrap was created only 65 years ago!
It is impossible to list all the situations in which the use of bubble wrap is invaluable. It is a material that protects the items packed in it from sudden drops or increases in temperature, physical damage, dust penetration, moisture, exposure to certain toxic substances, and even pests. Bubble wrap will come in handy in every business, but also in the vast majority of households. And since that is the case, it is worth finding out more about it in order to buy a bubble foil which meets our expectations and easily protects the contents of a parcel, sensitive food and every delicate object from damage during transport.

How did bubble wrap come about?
Interestingly, bubble wrap at first was not intended to be a material to reduce the possibility of fragile objects being damaged in transit, but... wallpaper! In 1957 two engineers, Alfred Fielding and Marco Chavannes, designed its specific three-dimensional dimension.
However, it soon became apparent that their invention was not working on the wall. Bubble wrap as wallpaper did not look very aesthetically pleasingand its properties hindered not only the proper bonding of the material, but also the post-production stage.
However, the effort made by the engineers proved to be extremely beneficial not only to their careers but also to global industry. What could not become the future of the wallpaper industry has proven itself to be a highly resistant, yet inexpensive packaging material. As a side effect of the inventors' efforts, they found themselves as owners of Sealed Air, a company that manufactures, among other things, bubble wrap.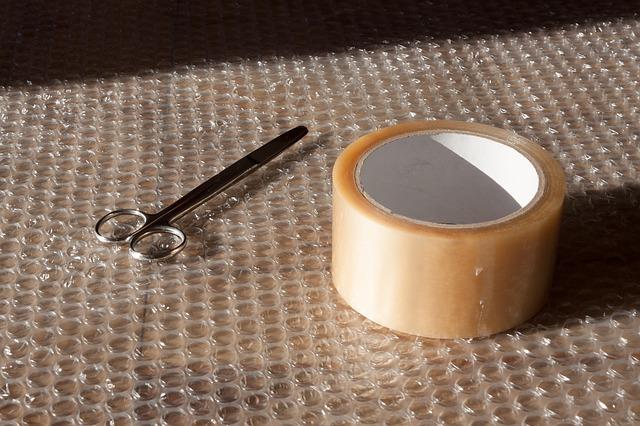 Application - bubble wrap
Bubble wrap can be used in so many areas that it is impossible to mention them all. Of course, it is most often used in the context of transport and protecting shipped objects against damage. However, bubble wrap also has insulating properties, protects against water and air ingress and keeps the interior at a constant temperature. All this makes it the packaging material of choice for almost every industry. This is because bubble wrap is a material that is cheap to produce, widely available and really extremely durable.
Bubble wrap in horticulture
Bubble foil is also used to protect plant cuttings during transport, seeds for winter and construction elements buried in the ground. All these properties are ideal for horticulture. And this applies both to industrial and "small" gardening. Just a few dozen square centimetres of bubble wrap will protect the contents of our pots - it is enough to line them with it from the bottom, sticking them on the inside with adhesive tape.
It is worth mentioning that transparent foil intended, among other things, for gardening applications will protect our valuable cuttings and tools from moisture, providing such protected items with a long-lasting bubble barrier against dirt, pests and influence of too low or too high temperature. Polyethylene does not decompose and reacts with almost no chemicalsso even after several months we should be able to arrive at the film in the same condition.
Bubble wrap in gastronomy
The use of bubble wrap is invaluable in small and large catering operations. Huge companies pack entire batches of food this way, using it instead of the more difficult-to-mould polystyrene, or supplementing its effect in places where these may not adhere rigidly to each other. In catering, bubble wrap is used to protect cold or hot dishes and semi-finished products and to protect larger batches from moisture and pests.
In gastronomy, bubble wrap is of course also used during transport. Food packed in this way will reach the customer intact. The bubble foil guarantees the freshness of the product even after several hours of transport. The foil will protect against possible damage, but it will also certainly come in handy as protection against thawing or overheating of the provisions. You can store sweets, ice cream, baked potatoes, pickles or fruit in foil instead of in boxes. Its durability will prove itself during transport as well as during internal storage, and the transparent layer will ensure that you can compare the current state of the packed provisions with the freshest batches.
Bubble wrap in transport
Bubble wrap (also known in this industry as bubble wrap) is used so often in transport that tradesmen can no longer imagine working without it. And even if you do not ship much yourself, you have certainly unwrapped an item wrapped in this way more than once. Has it ever been damaged despite this protection? Probably not. This is because bubble wrap is the perfect protection for any online shop.
The long-distance transportation of fragile items (especially those bought retail from an online shop) has contributed to the already huge popularity of bubble wrap. Although it has been more than 60 years since its invention, a cheaper and more convenient way of protecting objects than bubble wrap has still not been found. The safety of shipments, their protection against scratches, shocks and moisture makes it a long time before we say goodbye to it. And why should we, when bubble wrap has "saved the lives" of thousands of fragile items!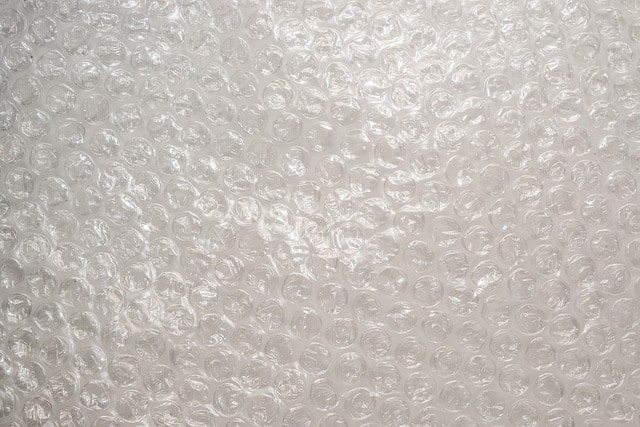 Bubble wrap and charity
It is also worth mentioning that it is also used for charitable activities. When time is of the essence and means of transport are exposed to numerous shocks and sudden temperature changes, bubble wrap protects tons of provisions from damage. In extreme situations, it can even be used to protect wounds. Above all, it allows you to transport shock-prone medication, antiseptics and bandages intact.
Bubble wrap in art and modelling
Anyone who has ever tried their hand at model building knows how sensitive to damage are individual parts of the construction. The bubble foil is useful not so much to protect complete sets, but individual elements. Packing the whole construction with bubble foil is only possible in the case of larger and less accurate constructions. The ten-centimetre-long aircraft unfortunately has to be disassembled and each of the sensitive parts wrapped in bubble wrap before transport.
It is a little easier to protect such works of art from damage as: rsculptures, paintings on hard, unbreakable surfaces, handicrafts, small clay or porcelain objects or decorative jewellery. Bubble wrap is the daily companion of every artist, whether they are creating in the workshop for e-commerce or in their own home.
Other uses of bubble wrap
It is worth remembering that bubble wrap is also commonly used in many other areas of life, trade and industry sectors. Bubble wrap is perfect for:
the e-commerce sector
gastronomy
trade in fresh fruit and vegetables
electronic industry (bubble wrap is used, for example, to pack components)
horticulture
art
handicrafts (the foil can be used to store sensitive materials outdoors)
modelling
the medical industry
furniture industry (parts of furniture are protected against damage by bubble foil)
glassmaking
winter tourism (bubble wrap protects provisions and electronics against damage and temperature differences)
computer service
transport
Bubble wrap - why do children (and adults) love playing with it so much?
We've certainly also heard about the stress-relieving potential of bubble wrap. As it turns out, popping more air bubbles is called by students the last protection against stress during a session. Some student organisations even hand out bubble wrap before important exams. This is what the Poznań-based KONTRA, among others, has been doing for years. But is this confirmed by scientific research?
It turns out that it does! The researchers compared the stress-relieving effect of piping bubble wrap to eating a bar of chocolate. In both cases, our brain is stimulated to secrete endorphins, popularly known as happy hormones. This unusual invention may serve us not only as a practical material protecting fragile objects from damage, but also as a sensational way to de-stress. As you can see, there is never enough bubble wrap!
What does bubble wrap consist of and how is it made?
Bubble wrap, also known as bubble wrap (which has to do with the way it is made) is made from polyethylene. During the manufacturing process, small resin beads of this material are dropped into a long cylinder where, under the influence of high temperature (over 450 degrees Celsius) are melted and pre-formed by means of a screw mounted in the centre. The resulting bubble wrap is then poured onto the prepared two adjoining plastic sheets and passed through special rollers with pre-punched holes to form the desired shape on their surface. As the film moves, the bubbles on the film fill with air.
In theory, it doesn't sound like an overly complicated production process, does it? Just heat something up, run it through a machine and cut it. Only that in practice the best bubble wrap manufacturers have to pay special attention to the situation when bubbles become leaky. The air escaping from them greatly affects the cushioning potential of the material. The best bubble wrap is therefore one which is additionally protected against possible damage by a protective layer.
How much does bubble wrap cost?
You are surely wondering how much bubble wrap costs to meet your requirements. The cheapest bubble wrap you can get for around 35 zlotys for 50 square metres. However, it is worth remembering that products of this class usually do not absorb impacts and do not protect against moisture and temperature fluctuations as well as bubble films from reputable companies.
In such cases, we often have to wrap the product several times to be sure. So from an economic point of view, buying an extremely durable 10 metre long bubble wrap for just a few dozen zlotys may turn out to be a better solution. Especially if we are dealing with items that are particularly sensitive to damage. And where can you buy bubble wrap that meets these standards?
Where to buy the best bubble wrap?
The bubble wrap we want to buy should come from a reliable source. Especially when we decide to supply a larger stock of such material, It is worth paying attention to the specifications on the manufacturer's website and asking about their certificates. You can also suggest the quality of other materials available in the offer. Bubble wrap made of high quality polyethylene resin will do its job in any of the above mentioned industries and arts. In the case of TW Plast The excellent quality of the certified protective masks is matched by the durability of other materials available in the manufacturer's range.
TW Plast is a company that has been in business for over 20 years. Two co-owners manage the project so that the materials manufactured by the company do not lose their quality while reaching a wide range of customers. The high level of specialisation allows the products on offer to be tailored to customer requirements. In our company (both stationary and online shop) easily accessible information about product specifications is the key to communication with our customers. Three independent production facilities allow us to produce products of the highest European quality. Both in terms of protective masks, medical masks, regenerative oxygenas well as film.
Bubble wrap - an invention for the 21st century!
It is no exaggeration to say that we all need bubble wrap to a greater or lesser extent. Even if we have nothing to do with gardening, catering, art or remote trading, it is worth stocking up on at least a small supply of this material. It can prove to be an invaluable lifeline when you need to secure items quickly. And the tough, flexible film effectively protects parcels from contamination and other high-quality products are available in our shop.